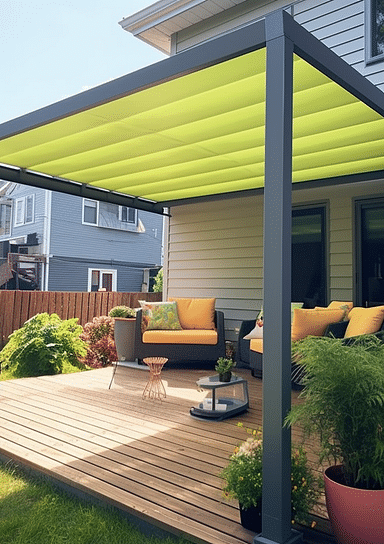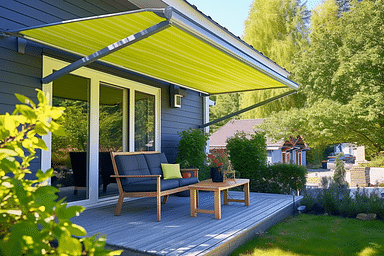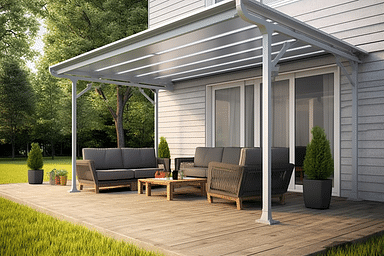 Patio cover
Product information
$2,571.33
Description
Palram - Canopia Feria Patio Cover - 10' x 18' - Gray
Details
Are you looking for a low-effort, high-impact solution to enjoy your outdoor space all year round?
Introducing the revolutionary Palram Canopia 11' x 12' Stockholm Patio Awning! This thoughtfully designed and engineered product will offer you protection from all sorts of weather conditions while adding style and convenience to your outdoor living space. With its reinforced 4mm panels, galvanized steel connectors, integrated hidden gutters, and easy DIY assembly kit - this patio cover is one of a kind.
Enjoy peace of mind with its reliable 100% UV blocking capabilities and no maintenance necessary design. Plus, it'll seamlessly integrate with any home design or outdoor space as it's crafted with powder-coated galvanized steel & aluminum elements. And don't forget - compatible roof blinds are available separately so you can customize your experience just how you want it!
Click here now to check out the Palram Canopia 11' x 12' Stockholm Patio Awning today! Have everything you need at the tip of your fingers for ultimate comfort in any setting.
Features
THOUGHTFUL ENGINEERING THAT OFFERS YEAR ROUND PROTECTION - Virtually unbreakable 8 mm multi-wall polycarbonate roof panels are naturally immune to 100% of harmful UV rays and allow for 65% light transmission.

PREMIUM MATERIALS THAT ALLOW FOR SEAMLESS INTERGRATION WITH ANY HOME DESIGN AND OUTDOOR SPACE - Featuring elements of powder coated galvanized steel and aluminum, this modern patio cover enhances all outdoor spaces.

STEP-BY-STEP DIY INSTRUCTIONS DESIGNED FOR HOMEOWNER INSTALLATION - The included DIY assembly kit makes installation a breeze by using Click N' Lock roof connector assembly system. Ready to assemble with pre-drilled profiles, pre-cut panels. All securing hardware included. Requires a solid level surface and solid wall support.

INTELLGENT DESIGN THAT PROTECTS AGAINST MORE THAN JUST HARMFUL UV RAYS - Front aluminum gutter directs rainwater to the side for additional protection from the elements. Adjustable wall mounting plate for flexibility in positioning of roof slope enabling better snow and rain runoff.

YEAR ROUND PROTECTION WITH NO HASSLE - Maintenance free design means you are able to comfortably enjoy a protected outdoor space with low effort.
Product specifications
Brand: Palram
Color: Gray
Height: 113 inches
Width: 116 inches
Length: 215 inches
Weight: 208 pounds
Size: 10' x 18'