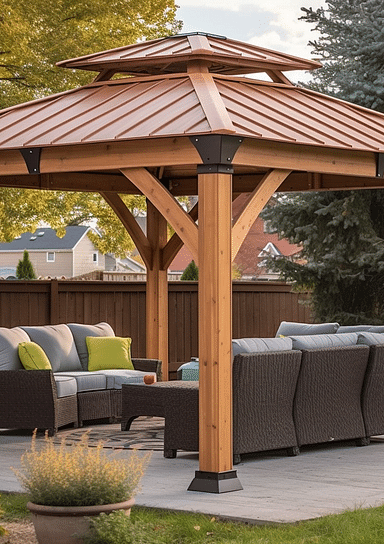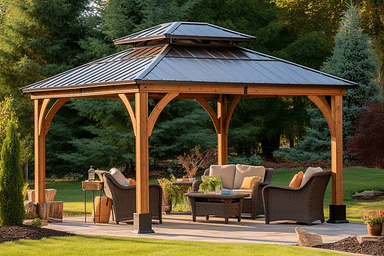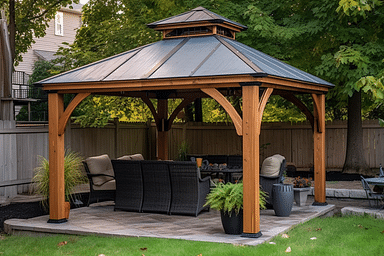 Sturdy Cedar Gazebo
Product information
$2,499.00
Description
Backyard Discovery Arlington 12x12 All Cedar Gazebo, Walnut, Insulated Steel Roof, Water Resistant, Wind Resistant up to 100 MPH, Withstand 7,886 lbs of Snow
Details
Are you looking to add a stylish gazebo to your backyard?
Look no further than the Backyard Discovery Arlington 12x12 All Cedar Gazebo! Our smart steel roof insulates heat for up to 20 degrees and our dual cross-beams provide added strength and stability. Plus, with BILT voice narration instructions, assembly is easier than ever before.
This durable 29-gauge steel roof can handle weather extremes in any climate plus it has been certified to hold up to 50 pounds per square foot of snow load without the need for constant snow removal. You'll love the upper shade structure which provides 144 sq ft of protection from the elements while still having over 110 sq ft lots of usable interior space!
Don't wait any longer! Purchase your Backyard Discovery Arlington 12x12 today and start enjoying all its amazing features right away!
Features
Steel peak roof design adds more strength and durability by increasing dent resistance and adding 8 layer corrosion resistance. Our 29-gauge steel provides a superior quality to snow and weather sensitive aluminum roofs.

Third party testing certifies up to 50 pounds per square foot (30 inches) of snow load. Creating an all-weather, all-season confidence without the need for constant snow removal regardless of where you live.

Backyard Discovery includes dual corbels and dual cross beams for added strength and stability. This dual strength feature adds a premium aesthetic appearance unlike traditional gazebos.

Powder coated, steel brackets reinforce your shade structure adding even more stability and reducing movement while offering first-class accents to your backyard focal point.

Steel anchoring plates are powder coated to match the shade structure steel brackets and externally mounted to your 6x6 posts for an easier installation and mounting to your outdoor patio.

Backyard Discovery partners with BILT to offer an easier assembly experience with step-by-step, voice narrated, 3 dimensional and interactive instructions

Heat insulation in our smart steel roof reduces heat transfer by up to 20°, ensuring a comfortable experience no matter where you live

Upper shade structure measures 12 ft. x 12 ft providing 144 sq. ft. of shade and protection from the elements

Interior, usable space measures 11 ft. x ft.9 in. with almost 110 sq. ft. of usable space and the luxury of accommodate a wide variety of furniture combinations
Product specifications
Brand: Backyard Discovery
Color: Walnut
Height: 121.6 Inches
Width: 145 Inches
Length: 146.6 Inches
Weight: 811 Pounds
Size: 12 ft. x 12 ft.
Count: 1