Stylish Outdoor Cushions: The Perfect Finishing Touch
Discover the transformative power of outdoor cushions and learn how to choose the perfect ones for your space.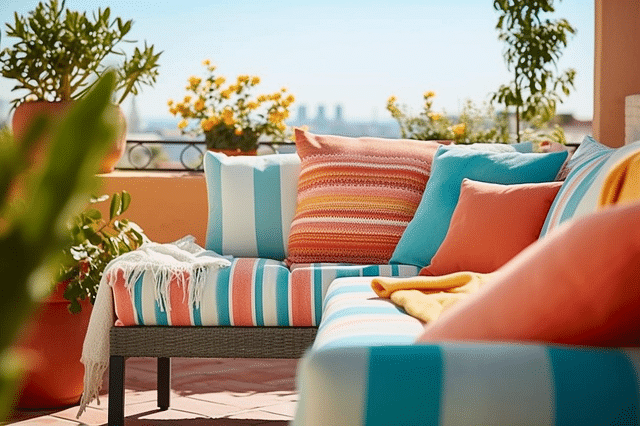 Are you looking for an easy and affordable way to take your outdoor space to the next level? Look no further than outdoor cushions! With their versatility, durability, and style options, outdoor cushions are the perfect finishing touch for any outdoor space.
In this blog post, we'll explore all the reasons why outdoor cushions are a must-have for any backyard or patio. We'll also provide tips for choosing the perfect outdoor cushions for your space, to ensure that your outdoor area looks both stylish and comfortable.
Why Outdoor Cushions Are Important
Outdoor cushions are so much more than just a decorative accessory. They bring much-needed comfort to outdoor seating areas, making them perfect for lounging, relaxing and entertaining guests. They can also add a pop of color or a texture to an otherwise neutral space, making it more inviting and interesting.
But outdoor cushions aren't just for show. They're built to withstand harsh weather conditions and resist fading from UV rays, making them a practical long-term investment for your outdoor space.
Choosing the Perfect Outdoor Cushions
With so many options to choose from, it can be overwhelming to find the perfect match for your outdoor space. Here are a few tips to help you choose the best cushions for your needs:
Consider the color and pattern: You'll want to pick a color and pattern that complements the existing colors in your space. Whether you're looking for something bold or subtle, there's a cushion out there for you.

Look for durability: Make sure to choose cushions made from high-quality materials designed to stand up to harsh weather conditions.

Choose the right size: Make sure to measure your outdoor furniture so that your cushions fit snugly and comfortably.

Consider the filling: A high-quality filling will provide the most comfort and longevity, so consider choosing cushions with foam, down or polyester fill.
The Transformative Power of Outdoor Cushions
By adding outdoor cushions to your space, you can create a comfortable and stylish oasis that you can enjoy for years to come. Not only will they add a pop of color and texture, but they'll also provide much-needed comfort and durability.
So why wait? Invest in a set of outdoor cushions today and experience the transformative power they can bring to your outdoor space.
Frequently asked questions
Why do I need outdoor cushions?

Outdoor cushions can add style and comfort to your outdoor space. They can also help to protect your furniture from wear and tear.

What materials are outdoor cushions made of?

Outdoor cushions are typically made of durable materials such as polyester, acrylic, or Sunbrella fabric. These materials are weather-resistant and can withstand outdoor conditions.

What types of outdoor cushions are available?

Outdoor cushions come in a range of styles and designs, from solid colors to patterns and prints. Some of the most popular types are seat cushions, back cushions, and bench cushions.

How do I choose the right size of outdoor cushion?

To choose the right size of outdoor cushion, measure the length and width of your furniture seat and choose a cushion that is slightly smaller. This will ensure a snug fit and prevent the cushion from sliding around.

How do I clean outdoor cushions?

To clean outdoor cushions, use a mild detergent and warm water. Scrub the cushions gently with a soft-bristled brush and allow them to air dry completely before using them again.

Can outdoor cushions fade in the sun?

Yes, outdoor cushions can fade in the sun over time. To prevent this, choose cushions made with fade-resistant materials or store the cushions away when they are not being used.

How do I store outdoor cushions during the off-season?

To store outdoor cushions during the off-season, make sure they are completely clean and dry. Store the cushions in a dry, ventilated area away from direct sunlight.

Can I use indoor cushions outside?

No, indoor cushions are not designed to withstand outdoor conditions and can become damaged over time. Always use outdoor cushions for your outdoor space.

Do I need to match my outdoor cushions to my other outdoor decor?

No, you do not need to match your outdoor cushions to your other outdoor decor. However, you may want to choose cushions that complement your existing decor for a cohesive look.

Where can I buy stylish outdoor cushions?

Stylish outdoor cushions can be found at home decor stores, outdoor furniture stores, and online retailers. Look for cushions made of high-quality materials that are designed for outdoor use.
Are you looking for more ideas?
Have a look at these other guides about improving your garden and patio to create your dream outdoor space!
Are you looking for more ideas?