Wooden Outdoor Furniture: Timeless & Versatile Garden Furniture
Uncover the charm of wooden outdoor furniture. From teak to cedar, our curated range of wood furniture brings a timeless aesthetic to your outdoor space.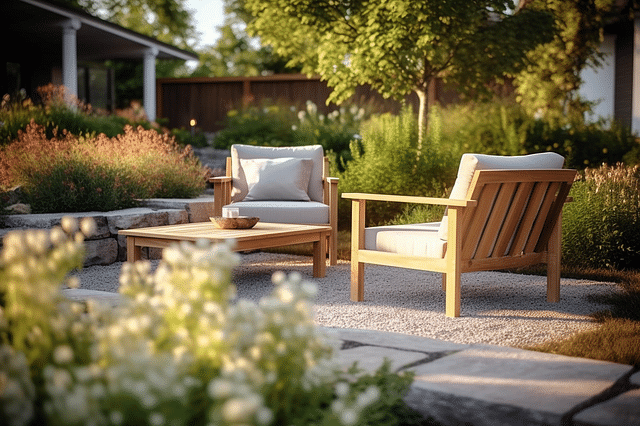 There's something undeniably captivating about the charm of wooden outdoor furniture. Are you longing to infuse your garden with a touch of timeless elegance and unmatched versatility? Look no further! Wooden outdoor furniture is here to transport you to a world where nature's beauty blends seamlessly with your outdoor sanctuary.
Imagine sipping your morning coffee amidst the rustic allure of wooden chairs or hosting unforgettable gatherings on a wooden dining set that exudes warmth and character. With wooden outdoor furniture, you have the power to create a space that effortlessly adapts to your style and desires. So, are you ready to embark on a journey where the natural allure of wood meets the enchantment of your garden oasis? Join us as we unlock the secrets to crafting an outdoor haven that radiates timeless beauty and adapts to your every need!
The Advantages of Wood Outdoor Furniture
The appeal of wood outdoor furniture is multifaceted, stemming from its natural beauty, strength, and the variety of wood types available.
Natural Beauty
There's no denying the aesthetic appeal of wood. Its warm tones, natural grain patterns, and organic feel lend a sense of comfort and elegance to any outdoor space. The look of wood is incredibly versatile, fitting into both modern and traditional design schemes.
Strength and Durability
Wood is naturally sturdy and long-lasting. If properly maintained, wood outdoor furniture can withstand the elements for years, developing a charming patina over time.
Variety of Wood Types
From the rich, dark tones of teak and mahogany to the light, fresh look of pine or cedar, there's a type of wood to suit every taste. Each type of wood has its own unique characteristics, offering a range of options for your outdoor space.
The Variety of Wood Outdoor Furniture Styles
Wood outdoor furniture offers a plethora of styles to choose from. Whether your aesthetic leans toward the rustic charm of farmhouse-style designs, the sleek lines of contemporary pieces, or the elaborate detailing of traditional styles, there's a wooden outdoor furniture design for you.
How to Care for Wood Outdoor Furniture
Proper care can greatly extend the life of your wood outdoor furniture. Most woods benefit from regular cleaning with a soft, damp cloth. Avoid harsh chemicals that can damage the wood's finish. For most types of wood, it's also beneficial to apply a protective sealant annually to protect it from the elements. If your furniture is made from teak, it's best to let it weather naturally to a beautiful silver-gray.
Factors to Consider When Choosing Wood Outdoor Furniture
Choosing wood for your outdoor furniture involves several considerations.
Firstly, different types of wood have different maintenance needs and durability levels. Hardwoods like teak and eucalyptus are more weather-resistant and typically require less maintenance than softwoods like pine.
Secondly, consider the climate in your area. Wood furniture can be susceptible to damage from excessive moisture or extreme temperature changes, so it might not be the best choice for every climate.
Lastly, consider the style and aesthetic you want for your outdoor space. The type of wood you choose can greatly impact the overall look of your furniture.
Conclusion
Wood outdoor furniture brings a combination of natural beauty, durability, and versatility that's hard to beat. By choosing the right type of wood for your climate and maintaining it properly, you can enjoy the charm of wooden outdoor furniture for many years. Dive into our selection and find the perfect pieces to create your personal outdoor sanctuary.
Frequently asked questions
What is wooden outdoor furniture?

Wooden outdoor furniture is any type of furniture designed for outdoor use, made of wood and appropriate for the environment. It is versatile, durable, and adds a rustic charm to any outdoor space.

What are the benefits of wooden outdoor furniture?

Wooden outdoor furniture is durable, versatile, and easy to maintain. It is also eco-friendly, as wood is a natural and renewable resource. Unlike metal or plastic furniture, wood has a warm and inviting feel that blends effortlessly with nature.

Which types of wood are used for making outdoor furniture?

Teak, cedar, redwood, and eucalyptus are some of the popular woods used for making outdoor furniture. These woods are chosen for their durability, strength, and resistance to weather.

Is wooden outdoor furniture weather-resistant?

Yes, wooden outdoor furniture is weather-resistant but how long it lasts depends up on the type of wood. Some types of woods can handle harsh weather conditions such as rain or snow better than others.

How do I maintain my wooden outdoor furniture?

Regular maintenance like cleaning and oiling can prolong the life of your wooden outdoor furniture. Avoid harsh chemicals and store wooden furniture in a dry place during winter months.

Is wooden outdoor furniture easy to assemble?

Yes, wooden outdoor furniture is usually easy to assemble. Many furniture sets come with clear instructions and all the hardware needed to assemble the pieces.

Can I leave wooden outdoor furniture outside during winter?

You can leave wooden outdoor furniture outside in winter if you maintain it properly and cover the furniture with a durable cover. Exposure to harsh winter conditions can shorten the lifespan of your outdoor furniture.

What is the lifespan of wooden outdoor furniture?

The lifespan of wooden outdoor furniture depends on the type of wood and how well it is maintained. With proper care and maintenance, wooden outdoor furniture can last for many years.

How do I choose the right wooden outdoor furniture for my space?

Consider the size of your space, the style of your home, and the functionality you need from the furniture. Look for wooden outdoor furniture that is durable, easy to maintain and complements the other elements in your outdoor space.

Where can I buy high-quality wooden outdoor furniture?

You can buy high-quality wooden outdoor furniture from furniture stores, home improvement stores, and online retailers. Look for a reputable seller that offers a warranty and has positive reviews from other customers.
Are you looking for more ideas?
Have a look at these other guides about improving your garden and patio to create your dream outdoor space!
Are you looking for more ideas?