Outdoor Bar Sets for a Posh Garden Party
Get ready to elevate your garden parties with outdoor bar sets for a posh and unforgettable experience. Find the perfect bar set that will turn your outdoor entertaining into a true sensation.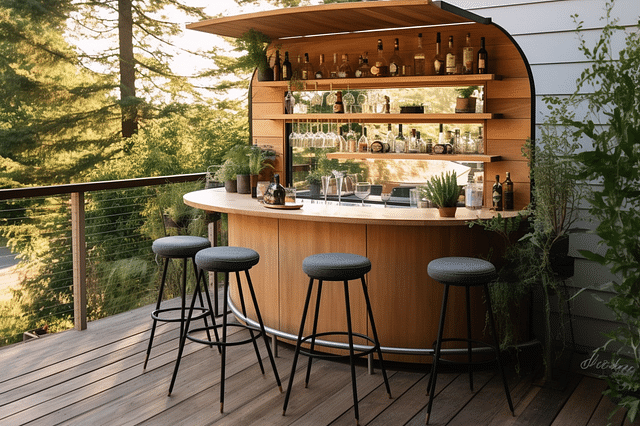 Are you someone who loves hosting outdoor gatherings and garden parties? Do you enjoy entertaining your friends and family in the open air, surrounded by nature's beauty? If so, then you know how important it is to have the right outdoor bar set to create the perfect atmosphere for your guests. Whether you're planning a casual get-together or a posh garden party, having a stylish and functional outdoor bar set can take your entertaining game to the next level.
In this blog post, we will explore the top 12 outdoor bar sets that are sure to impress your guests and elevate your outdoor entertaining experience. We will guide you through the features, materials, and design elements that make each bar set unique. So, if you're in the market for a new outdoor bar set, or you simply want to upgrade your current one, this guide will help you find the best options for your needs and preferences.
Let's dive in and discover the perfect outdoor bar set that will turn your garden into the ultimate party destination.
Why Outdoor Bar Sets are Essential for Garden Parties
Garden parties are a wonderful way to enjoy the outdoors and spend time with friends and family. They create a relaxed and inviting atmosphere where guests can unwind and have a great time. To take your garden parties to the next level, consider investing in an outdoor bar set.
What are the benefits of having an outdoor bar set for garden parties?
Having an outdoor bar set at your garden party offers a multitude of benefits. First and foremost, it provides a designated area for serving and enjoying beverages. This means you don't have to constantly run back and forth to the kitchen or indoors to fetch drinks. With an outdoor bar set, everything you need is right at your fingertips.
Another benefit is convenience. Outdoor bar sets often come equipped with storage space for glassware, bottles, and other bar accessories. This allows you to keep everything organized, making it easy to find what you need when preparing and serving drinks. No more searching through cabinets or rummaging through coolers!
In addition to the practical benefits, an outdoor bar set also adds a touch of sophistication and style to your garden party. It creates a focal point and sets the ambiance for the event. Whether you prefer a classic wooden bar set or a sleek modern design, there are options to suit every taste and décor.
How can an outdoor bar set enhance the overall experience of a garden party?
An outdoor bar set can greatly enhance the overall experience of a garden party in several ways.
First, it encourages socializing and mingling among guests. With a designated area for serving drinks, people naturally gather around the bar to chat and interact. This creates a lively and sociable atmosphere where guests can connect and enjoy each other's company.
An outdoor bar set also allows you to expand your drink selection and offer a wider variety of beverages. You can stock your bar with a range of alcoholic and non-alcoholic options, as well as mixers and garnishes. This ensures that all guests, regardless of their preferences, can find something they enjoy.
Furthermore, an outdoor bar set can act as a focal point for entertainment. You can set up a small speaker system near the bar to play music, creating a festive ambiance. Additionally, you can incorporate fun and interactive elements such as a signature cocktail station or a DIY drink mixing station. These activities not only engage your guests but also add an element of creativity and excitement to the party.
Overall, an outdoor bar set provides convenience, style, and entertainment value to your garden party. It elevates the experience for both you as the host and your guests, making your event more enjoyable and memorable for everyone involved. So, consider investing in an outdoor bar set for your next garden party and watch as it becomes the highlight of the event.
Factors to Consider When Choosing an Outdoor Bar Set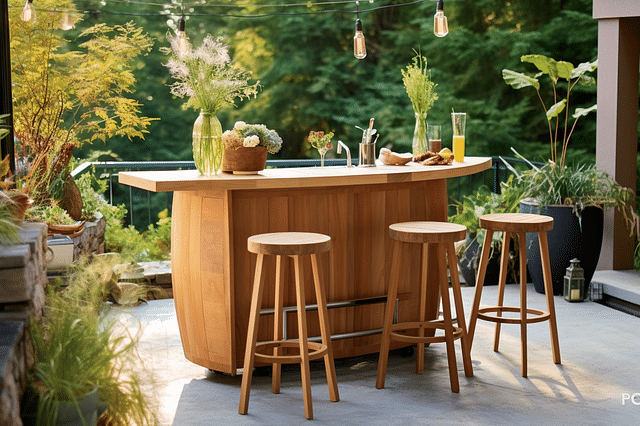 Choosing an outdoor bar set for your garden or patio can be an exciting process. Not only does it provide a space to entertain and enjoy the outdoors, but it also adds style and functionality to your outdoor space. However, with so many options available, it can be overwhelming to make a decision. To help you with your selection, here are some important factors to consider when choosing an outdoor bar set.
What materials are commonly used in outdoor bar sets?
Outdoor bar sets are typically made from a variety of materials, each with its own set of benefits and considerations. The most common materials used in outdoor bar sets include:
Wood: Wood is a popular choice for outdoor furniture due to its natural beauty and durability. However, it requires regular maintenance, such as sealing and refinishing, to protect it from the elements.
Metal: Metal bar sets, such as those made from aluminum or wrought iron, are known for their strength and stability. They are resistant to weather damage and require minimal maintenance. However, they may be prone to rusting over time if not properly cared for.
Wicker: Wicker bar sets are made from woven synthetic materials that mimic the look of natural rattan. They are lightweight, easy to clean, and resistant to weather damage. However, they may not be as durable as other materials and can fade or warp over time.
Plastic: Plastic bar sets are affordable, lightweight, and easy to clean. They are resistant to weather damage and require minimal maintenance. However, they may not offer the same level of durability and aesthetic appeal as other materials.
When choosing the material for your outdoor bar set, consider your climate, maintenance preferences, and desired aesthetic. It's also important to ensure that the material is designed to withstand the outdoor elements and is UV-resistant to prevent fading.
What are the different styles of outdoor bar sets?
Outdoor bar sets come in a variety of styles to suit different preferences and design themes. Some of the most common styles include:
Traditional: Traditional outdoor bar sets often feature intricate details, decorative accents, and a timeless design. They are typically made from wood or metal and exude a classic, sophisticated vibe.

Modern: Modern outdoor bar sets are characterized by clean lines, minimalist designs, and sleek finishes. They often incorporate materials such as metal, glass, and plastic to create a contemporary look.

Rustic: Rustic bar sets showcase a natural, rugged aesthetic with elements such as distressed wood, log accents, and earthy colors. They are perfect for creating a cozy, cabin-like atmosphere in your outdoor space.

Tropical: Tropical bar sets evoke a resort-like feel with their vibrant colors, tropical patterns, and woven details. They often feature materials such as rattan or wicker, creating a laid-back, vacation-inspired ambiance.
When choosing the style of your outdoor bar set, consider the overall theme or style of your outdoor space. It's important to select a style that complements the existing décor and creates a cohesive look.
How to choose the right size of an outdoor bar set for your garden?
Selecting the right size of an outdoor bar set is essential to ensure it fits properly in your garden or patio. Here are some tips to help you choose the right size:
Measure your space: Begin by measuring the available space in your garden or patio where you plan to place the bar set. Consider the length, width, and height of the area to ensure there is enough room for the bar set and ample space for movement.

Consider seating capacity: Determine the number of people you want to seat at the bar set. Some bar sets come with stools or chairs, while others offer bench seating. Consider your entertaining needs and choose a bar set that can accommodate your desired number of guests.

Allow for additional space: Leave enough space around the bar set for guests to move comfortably. It's important to have space for people to pull out chairs or stools and move around the bar area without feeling cramped.

Scale with the surroundings: Consider the scale and proportion of the bar set in relation to the surrounding elements. If you have a small garden, a large bar set may overpower the space. On the other hand, a tiny bar set may get lost in a larger outdoor area.
By measuring your space, considering seating capacity, allowing for additional space, and scaling with the surroundings, you can choose an outdoor bar set that fits perfectly in your garden and creates a welcoming atmosphere for you and your guests.
Tips for Hosting a Memorable Garden Party with an Outdoor Bar Set
So, you've got your outdoor bar set and you're ready to throw an unforgettable garden party? Fantastic! With the right setup and a little creativity, you can create a delightful atmosphere that will have your guests talking about your party for years to come. In this section, we'll cover three essential aspects of hosting a memorable garden party with an outdoor bar set: setting up for maximum functionality, creative decoration ideas, and essential drinks and accessories for a posh party.
How to set up your outdoor bar set for maximum functionality?
Setting up your outdoor bar set in a way that optimizes functionality is crucial for ensuring a smooth and enjoyable party. Here are a few tips to help you get started:
Consider the flow: Arrange your bar set in a location that allows guests to easily access it without causing congestion. Ensure there is enough space for people to move around comfortably.

Organize your bar essentials: Keep your bar essentials such as glassware, bottle openers, and cocktail shakers within easy reach. Consider investing in a bar cart or shelves to keep everything organized and accessible.

Provide ample seating: Set up a few bar stools or outdoor chairs near the bar area for guests to relax and enjoy their drinks. If you're expecting a larger crowd, consider renting extra seating.

Create a designated drink station: Designate a specific area for guests to order and pick up their drinks. This will help streamline the process and prevent overcrowding at the bar.
What are some creative ways to decorate your outdoor bar set?
Now that your outdoor bar set is set up for maximum functionality, it's time to add some creative touches to make it visually appealing. Here are a few decorating ideas to enhance the ambiance of your garden party:
Twinkling lights: String fairy lights around your outdoor bar set to create a magical atmosphere. Opt for warm white lights for a cozy feel or colorful lights for a vibrant and festive look.

Fresh flowers: Adorn your bar area with fresh flowers in vases or mason jars. Choose blooms that match the theme of your party or go for a mix of colorful flowers for a cheerful display.

Personalized signage: Create custom signs with drink menus, cocktail recipes, or fun quotes to add a personalized touch to your outdoor bar set. Use chalkboards, wooden plaques, or DIY signposts for a rustic vibe.

Themed decorations: Embrace a specific theme by incorporating themed decorations into your outdoor bar set. For example, if you're hosting a tropical-themed party, use pineapple-shaped drink dispensers or tiki torches to set the mood.
Essential drinks and accessories to consider for a posh garden party.
To elevate your garden party and make it posh and sophisticated, consider offering a selection of carefully curated drinks and accessories. Here are a few essentials to consider:
Signature cocktails: Create a signature cocktail that reflects your party theme or personal taste. Serve it alongside popular classics like mojitos, martinis, or margaritas. Don't forget to offer non-alcoholic options for those who prefer a booze-free beverage.

Fresh garnishes: Elevate your drinks by including fresh garnishes like mint leaves, citrus twists, or fruit skewers. These small touches add visual appeal and enhance the flavors of the drinks.

High-quality glassware: Invest in high-quality glassware to serve your drinks. Opt for elegant tumblers, wine glasses, or martini glasses to give your garden party a touch of sophistication.

Stylish bar accessories: Make sure you have all the necessary accessories to create and serve your drinks efficiently. This includes cocktail shakers, strainers, muddlers, and bar spoons. Don't forget to have plenty of ice and garnish trays as well.
Remember, hosting a memorable garden party is all about creating an inviting atmosphere that showcases your attention to detail. With these tips for setting up your outdoor bar set, creative decoration ideas, and essential drinks and accessories, you'll be well on your way to hosting a truly remarkable event. Cheers to a wonderful garden party!
Frequently asked questions
What are outdoor bar sets?

Outdoor bar sets are specifically designed furniture sets that include a bar counter and stools, perfect for creating a dedicated entertaining space in your garden.

How can outdoor bar sets elevate garden parties?

Outdoor bar sets provide a stylish and functional space for serving drinks and socializing, creating a posh and memorable atmosphere for your garden parties.

What should I look for when choosing an outdoor bar set?

When choosing an outdoor bar set, consider the quality of materials, weather resistance, and the overall design to ensure durability and a seamless integration with your garden decor.

Are outdoor bar sets suitable for small gardens?

Yes, there are outdoor bar sets available in various sizes to suit different garden spaces, including compact options that are perfect for small gardens or balconies.

Can outdoor bar sets be easily moved?

Some outdoor bar sets offer mobility features, such as wheels or lightweight materials, making it easy to move them around your garden as needed for different events or gatherings.

How do I maintain outdoor bar sets?

To maintain outdoor bar sets, regularly clean them with mild soap and water, protect them from harsh weather conditions with covers, and store them indoors during the winter months.

Can I customize an outdoor bar set to match my garden theme?

Many outdoor bar sets offer customization options, allowing you to choose different materials, colors, and styles to perfectly complement your garden theme and personal taste.

Are outdoor bar sets only for parties?

While outdoor bar sets are great for parties, they can also be enjoyed on a daily basis, providing a cozy spot to enjoy a morning coffee, unwind in the evening, or simply relax in your garden.

Do outdoor bar sets require assembly?

Most outdoor bar sets require some level of assembly, but they generally come with detailed instructions and all the necessary hardware to make the process as easy as possible.

Where can I find outdoor bar sets?

Outdoor bar sets can be found at various online retailers, home improvement stores, and specialty outdoor furniture stores. Check out customer reviews and compare prices to find the best option for you.
Are you looking for more ideas?
Have a look at these other guides about improving your garden and patio to create your dream outdoor space!
Are you looking for more ideas?