The Balcony Bliss: Outdoor Furniture for Small Spaces
Discover space-saving outdoor furniture ideas that can turn even the smallest balcony into a relaxing retreat.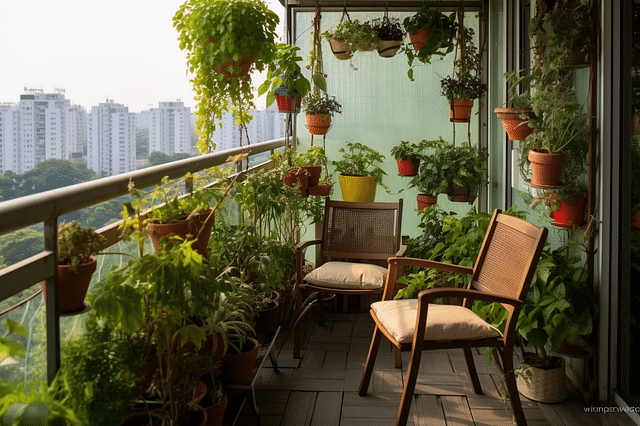 Are you tired of staring at your small, cramped balcony, wishing you had a place to relax and enjoy the warm weather? Look no further than our collection of outdoor furniture specifically designed for small spaces.
Overview
In this blog post, we'll be discussing the challenges of furnishing a small outdoor space and providing you with practical solutions to get the most out of it. You'll learn about different types of furniture that are perfect for small balconies, patios, and decks.
Purpose
By the end of this post, you'll be inspired and informed about ways to transform your small outdoor space into a cozy oasis. You will also have a better understanding of how to choose outdoor furniture that maximizes your limited space and fits your personal style.
The Challenges of Small Outdoor Spaces
Small outdoor spaces can pose a number of challenges that make furniture selection tricky. Limited space is the most obvious constraint, but awkward layouts, odd dimensions, and unattractive views or surroundings may also need to be addressed.
Introducing Space-Saving Outdoor Furniture
To make the most of your small balcony, we recommend investing in space-saving furniture designed for outdoor use. This includes pieces such as bistro sets, lounge chairs, and foldable tables.
Bistro Sets
Bistro sets are perfect for a cozy dinner for two, and they come in a variety of styles and materials. Choose between metal, wicker, or wood for a look that fits your personal style.
Lounge Chairs
Lounge chairs are perfect for sunbathing or reading, and they're available in different shapes and sizes to fit your space. Look for chairs with a slim profile or that fold easily to save space.
Foldable Tables
Foldable tables are a great solution for small balconies. Look for ones that can be folded flat against the wall when not in use. They're also great for entertaining guests.
Making the Most of Your Space
When it comes to furnishing a small outdoor space, every inch counts. You can improve the functionality of your balcony by adding some accessories that maximize your space.
Planters
Adding planters to your balcony not only brings natural beauty but also enhances privacy for you and your guests.
Umbrellas
Umbrellas provide much-needed shade on hot, sunny days. Choose a small umbrella that fits with your space rather than a large one that takes up too much room.
Conclusion
Small spaces don't have to compromise comfort or style when it comes to outdoor furniture. Whether you're in the city or suburbs, with our recommendations, you can create a relaxing oasis no matter how small your balcony is.
Take a look at our collection of outdoor furniture designed specifically for small spaces. You're sure to find something that fits your style and space.
Frequently asked questions
What types of outdoor furniture are best for small balconies?

Choose furniture that is compact and multi-functional, such as a small cafe table with chairs that can be stacked and stored easily.

How can I make the most of a small balcony space?

Consider using vertical space by adding hanging planters or a wall-mounted shelf for plants or decor.

What materials are best for outdoor furniture in small spaces?

Look for furniture made from materials that are durable and weather-resistant, such as metal, plastic, or synthetic wicker.

Can I still create a cozy outdoor seating area on a small balcony?

Yes, use soft seating options like cushions and throw pillows to create a comfortable and inviting atmosphere.

How can I add privacy to a small balcony?

Consider adding a trellis or tall potted plants to create a natural barrier from neighbors or onlookers.

What are some space-saving table options for small balconies?

Look for foldable tables or ones with drop-leafs that can be collapsed when not in use.

Is it worth investing in quality outdoor furniture for a small balcony?

Yes, investing in quality furniture that fits the space will not only make it look better, but it will be more comfortable and durable in the long run.

Can I incorporate lighting on a small balcony?

Yes, try string lights or plug-in sconces to create ambiance and illuminate the space.

How can I add color and style to a small balcony?

Use colorful outdoor rugs, throw pillows, and decor to add personality and style to the space.

What other small space solutions are there for outdoor living areas?

Consider adding a small outdoor storage bench or ottoman that can provide additional seating and storage for items like cushions and gardening tools.
Are you looking for more ideas?
Have a look at these other guides about improving your garden and patio to create your dream outdoor space!
Are you looking for more ideas?