How to Create a Cozy Outdoor Living Space
Get ideas and tips for arranging outdoor furniture and accessories to create a cozy, inviting outdoor living area.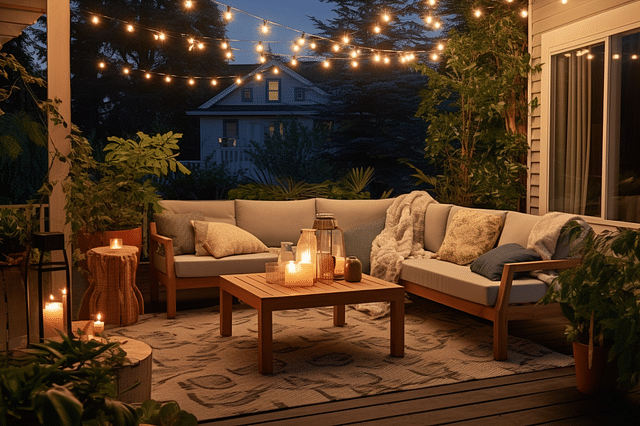 With the weather warming up, you might be itching to spend more time outside, but what's the point if your outdoor space is uninviting and uncomfortable? In this blog post, we'll explore how you can create a cozy outdoor living space that will make you want to spend all your free time outdoors.
The Importance of a Cozy Outdoor Living Space
Why bother creating a cozy outdoor living space? For starters, it provides a change of scenery and allows you to escape the confines of indoors. Plus, if you enjoy entertaining, a cozy outdoor space offers an ideal place for guests to gather and relax. Additionally, studies have shown that spending time outside can have numerous health benefits, such as reducing stress and improving overall well-being.
Planning Your Outdoor Living Space
Before you start buying furniture, it's best to have a plan in place. Sketch out a basic layout of the space and consider what activities you'll want to do there (e.g. lounging, cooking, dining, etc.). Once you have a rough idea of how you'll use the space, you can start to choose the right furniture and accessories to achieve your desired ambiance.
Creating Coziness with Furniture
When it comes to outdoor furniture, comfort is key. Look for pieces that are made of weather-resistant materials, like teak or aluminum, and that have plush cushions. Select furniture that fits your space, but also creates a cozy vibe, like an outdoor sectional or a loveseat with some throw pillows and blankets. Don't forget to include a coffee or side table to hold beverages and snacks.
Amplifying Coziness with Accessories
Accessories are the finishing touch that can take your outdoor space from average to amazing. Add mood lighting with string lights or lanterns, create some natural shade with a canopy or umbrella, and incorporate greenery with potted plants. Outdoor rugs are another way to add warmth, texture, and color to a space.
Comparing and Contrasting Outdoor Furniture
While traditional wooden patio furniture is always a classic choice, the emergence of luxury outdoor furniture provides even more options for creating a cozy outdoor living area. High-quality, designer outdoor furniture can be just as comfortable and inviting as its indoor counterpart. Plus, many types of luxury outdoor furniture are made with sustainable and eco-friendly materials, which is a bonus for conscientious shoppers.
Frequently asked questions
Why should I create a cozy outdoor living space?

A cozy outdoor living space provides a relaxing and enjoyable place for you to unwind, entertain guests, and enjoy the beauty of nature.

What furniture should I include in my outdoor living space?

Outdoor living spaces should include comfortable seating, such as chairs, sofas, and outdoor pillows, as well as tables, lamps, and other accessories to complete the space.

How important is outdoor lighting in a cozy outdoor living space?

Outdoor lighting is crucial for creating a cozy atmosphere in your outdoor living space. It can help set the mood, provide safety, and highlight certain features of your space.

What are some design elements that can enhance a cozy outdoor living space?

Elements such as natural materials, earthy colors, cozy textiles, and plants can all contribute to a warm and inviting outdoor living space.

How can I make the most of a small outdoor living space?

Maximize your space by choosing furniture that's scaled to fit your area, using vertical space, and investing in multi-functional pieces.

What are some budget-friendly ways to create a cozy outdoor living space?

DIY projects such as upcycling old furniture, adding inexpensive accessories like candles and string lights, and incorporating plants can all help create a cozy outdoor living space on a budget.

How do I maintain my outdoor living space in different weather conditions?

Depending on your climate, you may need to store your outdoor furniture and accessories during certain seasons or invest in protective covers to keep them safe from the elements.

What are some ideas for incorporating plants in my outdoor living space?

Plants can be used to add color, texture, and life to your outdoor living space. Consider hanging baskets, potted plants, and vertical gardens to incorporate greenery.

How can I utilize my outdoor living space for entertaining guests?

Consider creating separate spaces for dining and lounging, incorporating outdoor heating elements for cooler months, and adding a bar cart or outdoor kitchen for serving food and drinks.

What are some things to consider when selecting outdoor furniture and accessories?

Durability, comfort, and style are all important factors to consider when selecting outdoor furniture and accessories. Look for materials that can withstand the elements, offer ample support, and match your personal style and aesthetic preferences.
Are you looking for more ideas?
Have a look at these other guides about improving your garden and patio to create your dream outdoor space!
Are you looking for more ideas?