Hot Outdoor Furniture Materials
Discover the top material trends in outdoor furniture for the current year, from natural wood to recycled plastics.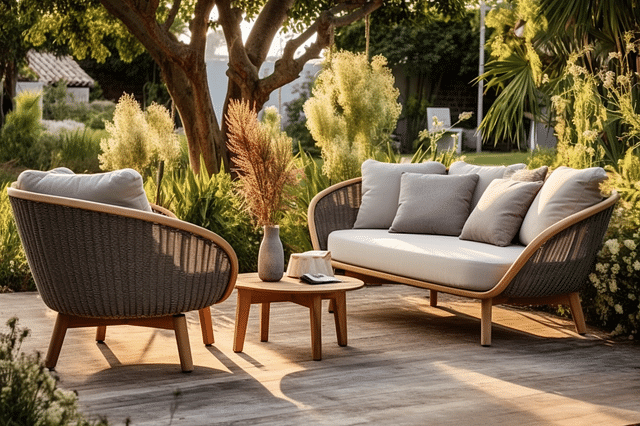 If you want to make your outdoor space a luxurious retreat, one of the most important things you can do is choose the right furniture. And that starts with choosing the right material.
Today, we'll be discussing the hottest outdoor furniture materials that will be trending for the year 2023. These materials have been carefully selected by experts in the industry to help you create your perfect outdoor oasis.
Purpose
By the end of this blog post, you will have a better understanding of the different outdoor furniture materials available on the market, and which materials are best suited for different environments and styles. We hope this post helps you take the guesswork out of your outdoor furniture purchase, so you can create the perfect outdoor space to relax and unwind.
The Background
Gone are the days where outdoor furniture solely serves a functional purpose and nothing more. Outdoor furniture is now designed to complement and enhance outdoor spaces while providing style and comfort. The materials that comprise outdoor furniture play a key role in achieving these goals.
Different Materials and Their Benefits
Natural Wood
Natural wood furniture is a classic and timeless choice that continues to be a favorite in outdoor spaces. It's perfect for creating a rustic or cozy atmosphere, and different woods offer varying levels of durability. For instance, teak is known to be a durable hardwood that is resistant to weather and wear, while cedar is softer and requires more upkeep.
Metal
Metal outdoor furniture comes in a variety of finishes, including aluminum, wrought iron, and stainless steel. These materials are popular among modern design enthusiasts as they offer a sleek and minimal aesthetic. Plus, metal furniture is highly durable and weather-resistant.
Recycled Plastic
Recycled plastic outdoor furniture has become increasingly popular in recent years due to its environmental benefits. It's both sturdy and durable, yet it won't rot or cause splinters. Plus, recycled plastic furniture does not require the same amount of upkeep as natural wood or metal furniture.
Why It Matters
Choosing the right material for your outdoor furniture can make all the difference in your experience. Choosing the wrong material can result in the need for costly repairs or replacement down the road. By knowing the pros and cons of each material, you can choose the furniture that best suits your needs, style, and environment.
Comparisons
Natural wood and metal outdoor furniture convey vastly different aesthetics. And while both options are quite durable, natural wood furniture requires more upkeep to maintain its appearance. Recycled plastic furniture is an affordable and environmentally friendly option that performs well in various outdoor environments.
Frequently asked questions
What are the top trends in outdoor furniture materials this year?

Natural wood and recycled plastics are the top trends in current outdoor furniture material choices.

What are the benefits of using natural wood for outdoor furniture?

Natural wood offers a classic and warm look to your outdoor furniture. It is also weather-resistant but requires some maintenance to keep its appearance.

How durable are recycled plastic materials for outdoor furniture?

Recycled plastic materials are highly durable and can withstand harsh weather conditions as well as heavy use.

Are metal materials a popular choice for outdoor furniture?

Yes, metal materials like aluminum and wrought iron are popular choices for outdoor furniture because of their sturdiness and resistance to rust.

What materials are commonly used for outdoor furniture cushions?

Outdoor furniture cushions are often made from materials like acrylic, polyester, and PVC-coated fabrics that are weather-resistant and easy to clean.

Are there eco-friendly materials for outdoor furniture?

Yes, there are eco-friendly materials for outdoor furniture such as sustainably sourced wood and recycled plastic that minimize the environmental impact.

Can outdoor furniture materials affect the environment?

Yes, outdoor furniture materials can affect the environment. Choosing eco-friendly materials can help reduce waste and the energy used to manufacture them.

How can I protect my outdoor furniture materials from sun damage?

Using covers or storing outdoor furniture indoors during excessive sun exposure can help protect natural wood and plastic materials from sun damage.

How do I maintain and clean my outdoor furniture materials?

Maintaining and cleaning outdoor furniture depends on the material. Natural wood requires re-staining and oiling, while plastic materials can be simply washed with soap and water.

Can I mix and match outdoor furniture materials?

Yes, mixing and matching outdoor furniture materials can create a unique and stylish look. Just make sure that the materials are compatible and can withstand the same weather conditions.
Are you looking for more ideas?
Have a look at these other guides about improving your garden and patio to create your dream outdoor space!
Are you looking for more ideas?