Smart Outdoor Furniture: The Future is Here
Explore the latest trends in smart outdoor furniture, from solar-powered tables to app-controlled lighting.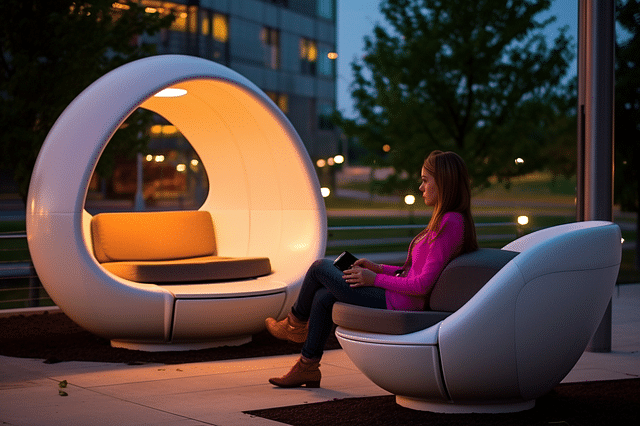 Do you love spending time outdoors, but find it frustrating when your furniture doesn't quite measure up? Whether you're entertaining guests or simply lounging in the sun, outdoor furniture is a key component of any backyard oasis. But what if your furniture could do more than just look great? What if it could be smart?
In this blog post, we'll be exploring the latest trends in smart outdoor furniture. From solar-powered tables to app-controlled lighting, there's so much to discover. Keep reading to find out how you can take your outdoor relaxation to the next level with cutting-edge technology.
What is Smart Outdoor Furniture?
Smart outdoor furniture refers to any piece of furniture that has been integrated with technology to enhance its functionality and convenience. This technology can take many forms, from built-in lights and speakers to solar panels that power USB ports. The goal of smart outdoor furniture is to make your time spent outside even more enjoyable and effortless.
The Benefits of Smart Outdoor Furniture
So why invest in smart outdoor furniture? Here are just a few reasons:
Convenience: With app-controlled features, you can easily adjust your furniture to fit your needs without getting up.
Energy Efficiency: Many smart outdoor furniture pieces are powered by solar panels, reducing your carbon footprint and lowering your energy bills.
Enhanced Enjoyment: Built-in speakers and lighting can take your outdoor entertainment experience to the next level.
The Latest Trends in Smart Outdoor Furniture
Now that you know the benefits of investing in smart outdoor furniture, let's explore some of the latest trends in this exciting field:
Solar-Powered Tables
Many outdoor dining sets feature umbrellas with built-in solar panels that power LED lights underneath. But why stop there? The latest trend is solar-powered tables that feature built-in charging ports. These tables absorb energy from the sun during the day and use it to power USB ports that you can use to charge your devices.
App-Controlled Lighting
What's more convenient than having your outdoor lighting on a timer? Having it on a timer that you can control from your phone! App-controlled lighting is becoming increasingly popular in the smart outdoor furniture space. With just a few taps on your phone, you can adjust the brightness and color of your outdoor lighting to fit your mood.
Built-in Speakers
Nothing sets the mood for a relaxing outdoor evening like some good tunes. Many smart outdoor furniture sets feature built-in speakers that you can connect to your phone or other devices via Bluetooth. These speakers are weather-resistant and are typically designed to blend in seamlessly with the furniture.
Where to Buy Smart Outdoor Furniture
Ready to invest in the latest technology for your backyard? There are numerous online retailers that specialize in smart outdoor furniture, including Amazon, Wayfair, and Houzz. You can also check out your local home goods stores to see if they carry any smart outdoor furniture options.
Conclusion
Smart outdoor furniture is the wave of the future. With built-in technology that enhances convenience, energy efficiency, and enjoyment, it's no wonder that this exciting field is rapidly expanding. Consider investing in a solar-powered table, app-controlled lighting, or built-in speakers to take your outdoor living space to the next level.
Frequently asked questions
What is smart outdoor furniture?

Smart outdoor furniture refers to outdoor furniture with integrated technology features such as smartphone app-controlled lighting or built-in speakers.

What are the benefits of smart outdoor furniture?

The benefits of smart outdoor furniture include convenience, added functionality, and the ability to connect to other smart home devices, making outdoor living more comfortable and relaxing.

What types of smart outdoor furniture are available?

Smart outdoor furniture options range from solar-powered tables and chairs to outdoor lounges with built-in LED lighting and wireless charging capabilities.

How does app-controlled outdoor lighting work?

App-controlled outdoor lighting is designed to allow you to control the brightness, color, and timing of outdoor lights using a smartphone app, making it more convenient and energy-efficient.

Is smart outdoor furniture weather-resistant?

Yes, most smart outdoor furniture is designed and manufactured to withstand various weather conditions, including rain, wind, and extreme temperatures.

Can I use smart outdoor furniture without a smartphone?

Yes, most smart outdoor furniture can be operated manually without using a smartphone. However, some features may require a smartphone to be fully functional, such as app-controlled lighting and speakers.

How long do the batteries of solar-powered furniture last?

The lifespan of the batteries in solar-powered furniture depends on factors such as usage and weather conditions, but they typically last for several years.

Are there any security concerns with app-controlled smart furniture?

Most app-controlled smart furniture is designed with security measures to ensure that only authorized users can access the app and control the furniture. Additionally, many apps offer password protection and encryption technology for added security.

How expensive is smart outdoor furniture?

The cost of smart outdoor furniture varies by brand, style, and features. However, it is generally more expensive than traditional outdoor furniture due to the added technological features.

Where can I buy smart outdoor furniture?

Smart outdoor furniture is available from many furniture retailers, including online stores and brick-and-mortar retailers. Some popular brands include Keter, Ikea, and Tortuga Outdoor.
Are you looking for more ideas?
Have a look at these other guides about improving your garden and patio to create your dream outdoor space!
Are you looking for more ideas?