Best Riding Lawn Mowers for Hills: Your Ultimate Guide to Slope-Friendly Mowing
Explore our comprehensive guide to the best riding lawn mowers for hills. Get insights into top picks, mowing techniques, and FAQs to maintain a perfect lawn on hilly terrains.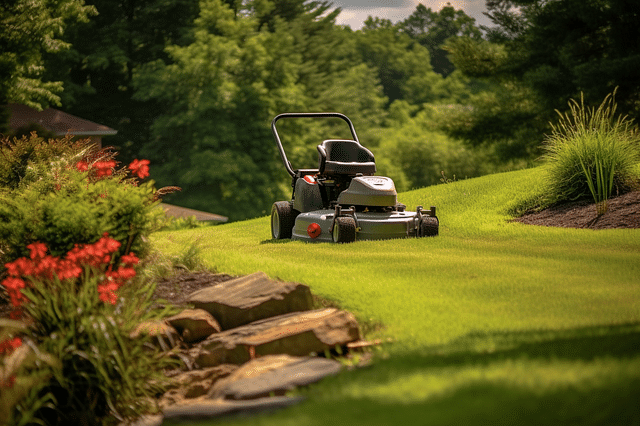 Are you tired of struggling to mow your hilly lawn with a regular push mower? Do you find yourself slipping and sliding as you try to navigate the uneven terrain? Well, fear not! In this ultimate guide, we will take you by the hand and show you the best riding lawn mowers for hills. Say goodbye to the back-breaking work of pushing a heavy mower uphill and hello to a smooth and effortless mowing experience.
Mowing hills can be a challenging task. It requires a special kind of equipment that is specifically designed to handle the slopes and contours of your yard. Without the right mower, you risk damaging your lawn, getting stuck, or even worse, injuring yourself. But don't worry, we've got you covered.
Whether you have a small incline or a steep hill to conquer, we have researched and tested the top riding lawn mowers on the market to find the ones that are best suited for hillside mowing. In this guide, we will break down everything you need to know about choosing the right mower for your hills, from the key features to consider to our top recommendations.
So, if you're ready to say goodbye to the frustrations of mowing a hilly lawn, let's dive in and discover the best riding lawn mowers that will make slope-friendly mowing a breeze.
Top Picks for Riding Lawn Mowers on Hills
Do you have a hilly yard and are in need of a reliable riding lawn mower? Look no further! We have rounded up the top picks for riding lawn mowers on hills to help make your decision easier. Whether you need to navigate steep slopes or uneven terrain, these mowers are specifically designed to handle the challenge. Let's take a closer look at what to consider when choosing a mower for hills, the best options available, and how they perform on different types of slopes.
What are the key features to look for in a riding lawn mower for hills?
When selecting a riding lawn mower for hills, there are a few key features you should keep in mind. These features will ensure that your mower can handle the inclines and provide a safe and efficient mowing experience. Look for the following features:
Engine power: A powerful engine is essential for tackling hills. Look for mowers with engines that provide enough horsepower to conquer steep slopes without straining.

Transaxle or hydrostatic transmission: Opt for a mower with a transaxle or hydrostatic transmission, as these provide better control and stability on hills. They allow for smoother acceleration and deceleration, preventing sudden jerks that could be dangerous on inclines.

Traction: Good traction is crucial when mowing on hills. Look for mowers with rugged tires that provide excellent grip. Some models also offer features like rear-wheel drive or all-wheel drive for added traction.

Stability: A riding lawn mower for hills should have a low center of gravity and a wide wheelbase to enhance stability. This will help prevent tipping or losing control while maneuvering on inclined surfaces.
Best Mowing Techniques for Hills
Maintaining a well-manicured lawn on hilly terrain can be a challenging task. The uneven slopes and angles can make mowing a bit more difficult and potentially dangerous if not approached correctly. Luckily, there are some techniques and safety measures you can follow to ensure a pristine lawn without any mishaps. In this section, we will explore the best mowing techniques for hills and answer some common questions you may have.
What are the safety measures to consider while mowing hills?
Mowing hills requires extra caution and attention to ensure both the safety of the operator and the well-being of the lawn. Here are some safety measures to consider while mowing hills:
Wear appropriate footwear: Opt for sturdy, non-slip shoes with good traction to maintain stability while navigating the slopes.

Evaluate the terrain: Before mowing, survey the lawn for any potential hazards such as rocks, tree stumps, or holes that could cause accidents.

Choose the right weather conditions: Avoid mowing hills on wet or rainy days as the soil can become slippery, making it riskier to operate the lawn mower.

Use the right equipment: Ensure your lawn mower is suitable for hills and equipped with features like anti-roll bars or wide-base tires for better stability.

Take it slow: Reduce your mowing speed and maintain a steady pace to maintain control and prevent accidents.

Stay alert: Pay close attention to your surroundings and always look out for any sudden changes in terrain or obstacles that may impact your mowing path.
How do you choose the right mowing pattern for your sloped lawn?
Choosing the right mowing pattern for a sloped lawn can help prevent soil erosion, promote even grass growth, and improve the overall appearance of your lawn. Here are some tips to help you choose the right mowing pattern:
Side-to-side mowing: For hills that slope from side to side, mowing horizontally across the slope can help prevent runoff and soil erosion.

Up and down mowing: If your lawn has a steeper slope, mowing up and down the slope can provide better traction and control while reducing the risk of the mower tipping over.

Diagonal mowing: Diagonal mowing patterns can add visual interest to your lawn while still ensuring even grass growth. This pattern works well for hills with a gradual slope.
Remember to vary your mowing pattern regularly to avoid creating ruts in the lawn and to promote healthier grass growth.
What are some tips for maneuvering a riding lawn mower on hills?
Maneuvering a riding lawn mower on hills can be a bit more challenging than on flat terrain. Here are some helpful tips to keep in mind:
Start on a lower gear: Begin on a low gear setting to give you better control and traction when starting on an incline.

Avoid sudden turns or direction changes: Make slow, gradual turns to maintain stability and prevent the mower from tipping over.

Ascend and descend slowly: When going uphill, take your time and maintain a steady speed. When going downhill, engage the mower's engine braking or use the lowest gear to control your speed.

Use the mower's safety features: If your riding mower is equipped with safety features such as a roll bar or seat belt, be sure to use them to reduce the risk of accidents.

Do not mow across the slope: Avoid mowing across the slope as this increases the risk of the mower tipping over. Stick to mowing up and down the slope for better control.
How can you prevent scalping and uneven grass growth on hilly terrains?
Scalping and uneven grass growth are common challenges on hilly terrains. To prevent these issues, follow these tips:
Set your mower at the recommended cutting height: Adjust your mower's cutting height based on the type of grass you have and the recommended height for your specific lawn. Avoid mowing too low, as this can scalp the grass and expose the soil.

Regularly inspect and level the terrain: Periodically inspect your lawn for any high spots or depressions. Level out uneven areas to promote even grass growth.

Fill in low spots: Fill in any low spots in your lawn with topsoil or compost to create a more uniform surface. This will help avoid scalping and promote healthier grass growth.

Consider manual trimming: In areas of the lawn where the slope is too steep for a mower, use a string trimmer or manual clippers to trim the grass.
By following these mowing techniques and safety measures, you can maintain a lush, healthy lawn on hilly terrain while ensuring your own well-being.
How do you maintain a riding lawn mower for hills?
Maintaining a riding lawn mower for hills is important to ensure its performance and longevity. Regular maintenance tasks include:
Checking tire pressure: Properly inflated tires help with traction on hills.
Sharpening blades: Sharp blades ensure a clean cut and prevent strain on the engine.
Cleaning the deck: Removing grass clippings and debris from the mower deck helps prevent rust and ensures a smooth mowing experience.
Changing oil and filters: Regular oil changes and filter replacements are essential for the mower's engine health.
Checking belt tension: Loose or worn-out belts can affect the mower's performance on hills.
Frequently asked questions
What is a Riding Lawn Mower?

A riding lawn mower is a type of outdoor power tool that can be operated while sitting. It's a tractor-like machine that can cut your lawn much more quickly than a push mower.

What should I look for in a lawn mower for hills?

When selecting a mower for a slope, you will want to consider the engine power, stability, and the type of wheels. You'll also want to select a model with a wide cutting deck and adequate ground clearance.

Is it safe to use a riding lawn mower on hills?

Yes, riding lawn mowers can be safe for hilly terrain when used properly. However, it's important to use caution and follow manufacturer's recommendations for each specific model.

What if I have a steep hill?

If you have a very steep hill, it is recommended to use a push mower or consider hiring a professional landscaper for safety reasons.

What are the top riding lawn mowers for hills?

Some of the top riding lawn mowers for hills include John Deere X350, Husqvarna TS 348XD, Cub Cadet XT1, and Troy-Bilt TB42 in.

Can I attach other equipment to a riding lawn mower?

Yes, many riding lawn mowers can be equipped with additional attachments such as trailers, baggers and sweepers.

What are some mowing techniques for hills?

Mowing grass on hills requires perpendicular cuts. You should mow up and down on hills to avoid tumbling downhill.

Is it possible to use a zero-turn lawn mower on hills?

Yes, you can use a zero-turn lawn mower on hills but it is important to check the manufacturer's recommendations and follow safety precautions to avoid rolling over.

What is the average life-span of a riding lawn mower?

The average riding lawn mower has a lifespan of approximately 8 to 10 years. With proper maintenance, some models can last up to 15 years or more.

Can I leave my riding lawn mower outside in the rain?

It is not recommended to leave your riding lawn mower outdoors in the rain. Exposure to moisture over time can cause rust damage and reduce the lifespan of your machine.
Are you looking for more ideas?
Have a look at these other guides about improving your garden and patio to create your dream outdoor space!
Are you looking for more ideas?