Choosing the Right Patio Umbrella: Tips and Recommendations
Get tips on choosing the right patio umbrella for your outdoor space, from size and material to style and features.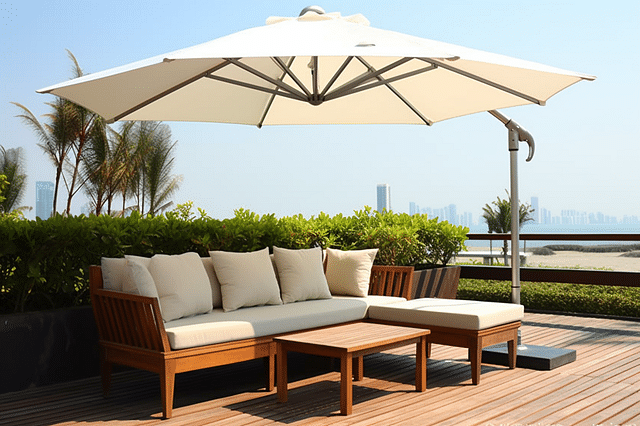 Are you looking to upgrade your outdoor space with a functional and stylish addition? Don't overlook the importance of a quality patio umbrella! Not only does it provide much-needed shade and comfort during sunny days, but it's also a key element in creating a cozy and inviting atmosphere. In this blog post, we'll walk you through the tips and recommendations for choosing the right patio umbrella for your outdoor space.
The Purpose
The purpose of this blog post is to guide you through the decision-making process of choosing the ideal patio umbrella for your outdoor space. Whether you're looking for a durable and weather-resistant option, or a stylish and decorative addition that complements your existing decor, we've got you covered.
The Overview
Before diving into the specifics, it's important to consider the factors that will influence your decision. These include the size of your outdoor space, the climate and weather conditions, the desired aesthetic, and your personal preferences.
Sizing and Material
The size of the umbrella largely depends on the size of your outdoor space and the number of people you typically entertain. As a general rule, the diameter of the umbrella should be at least 2 feet larger than the table or seating area it covers. When it comes to materials, there are a wide variety of options, from lightweight and durable aluminum to classic and traditional wood. Each material has its own pros and cons, so it's important to do your research and choose the one that fits your needs and preferences.
Style and Features
In addition to the size and material, the style and features of the umbrella can also make a big impact on the overall look and functionality of your outdoor space. Some popular styles include the cantilever umbrella, the market umbrella, and the beach umbrella. Additionally, features such as tilt mechanisms, wind vents, and LED lights can add both practicality and ambiance to your space.
Implications and Benefits
Choosing the right patio umbrella can make a significant difference in the enjoyment and comfort of your outdoor space, as well as its overall aesthetic and style. It can also provide protection from the harmful effects of the sun and weather, while adding a touch of elegance and sophistication.
Frequently asked questions
What size patio umbrella do I need?

The size of your patio umbrella will depend on the size of your outdoor space. Measure your table or sitting area to determine the appropriate size umbrella.

What materials should I consider for a patio umbrella?

Look for patio umbrellas with durable and weather-resistant materials such as aluminum, fiberglass or treated wood.

Can I find patio umbrellas that match my outdoor décor?

Yes, there are many patio umbrellas available in different colors, patterns, and styles that can match your outdoor décor.

Should I get a tilting patio umbrella?

If you want to be able to adjust the shade coverage throughout the day, a tilting patio umbrella could be a great option.

Are there any features I should look for in a patio umbrella?

Adjustable height, vented canopy, UV-resistant fabric, and auto-tilt are some useful features to consider.

Are offset patio umbrellas better than traditional umbrellas?

Offset patio umbrellas have a cantilevered design that provides more flexibility in positioning and shading, but they tend to be more expensive.

Can I get a patio umbrella that is easy to clean and maintain?

Yes, some patio umbrellas have removable canopy covers that are machine washable, while others have low-maintenance materials that can be wiped clean.

How much should I expect to spend on a patio umbrella?

The price of patio umbrellas varies greatly depending on size, material, and features, but you can find good options for as low as $50 and high-end models for over $500.

Should I get a patio umbrella with a stand or a built-in base?

Both options can work, but a patio umbrella with a built-in base may be more stable and easier to move around.

How do I properly store my patio umbrella during off-seasons?

Clean the umbrella, remove the canopy, and store it in a dry, cool place to prevent mold or mildew. Store the frame in a protective cover or in a location out of direct sunlight.
Are you looking for more ideas?
Have a look at these other guides about improving your garden and patio to create your dream outdoor space!
Are you looking for more ideas?