How to Choose the Perfect Outdoor Pillows
Get tips on choosing outdoor pillows that are both stylish and durable, and explore some of our favorite options.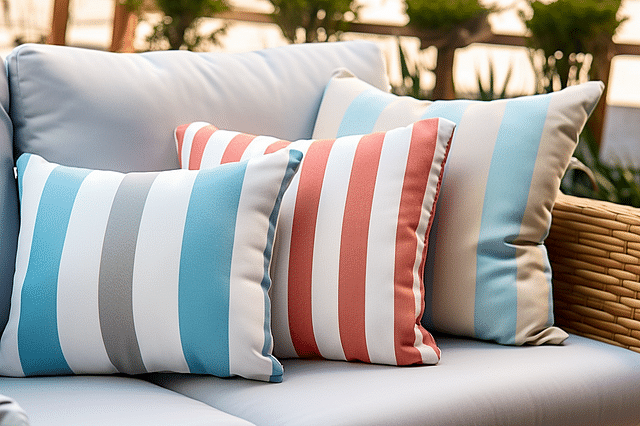 Are you looking to spruce up your outdoor retreat with pillows that not only look fantastic but can endure the elements? Outdoor pillows can add a refined look to your patio, porch, or deck, but with so many options to choose from, it can be challenging to find the right ones. In this blog post, we'll equip you with everything you need to know to choose the perfect outdoor pillows for your outdoor space.
Why it Matters
Choosing the perfect outdoor pillows can be crucial to setting the right mood and creating the ultimate outdoor lounging experience. The right outdoor pillows can add pops of color and texture to your space, while also providing crucial lumbar support. But with a wide range of fabrics, colors, sizes, and shapes to choose from, finding the perfect pillows can seem daunting. That's where we come in.
Understanding the Basics
Before diving into outdoor pillow shopping, it's essential to understand what makes an outdoor pillow different from its indoor counterpart. Outdoor pillows need to be made of fabrics that can withstand exposure to moisture, UV rays, and other outdoor elements. Therefore, outdoor pillows should be made of materials such as Sunbrella or Olefin fabrics that resist fading, mildew, and water damage. High-quality outdoor pillows also feature covers that are UV resistant and come with zippers that allow you to easily remove them for cleaning.
Size and Shape
Another important factor to consider when choosing outdoor pillows is their size and shape. Outdoor pillows come in various sizes and shapes, and choosing the right one for your outdoor furniture is key. Standard sizes include 16x16 inches, 18x18 inches, and 20x20 inches. Lumbar pillows, which provide extra support for the lower back, are typically 12x18 inches. Some pillows come in unique shapes, such as round or bolster pillows, which can add visual interest to your outdoor lounge space.
Color and Pattern
Now that you understand the basics and have a rough idea of the right size for outdoor pillows, it's time to consider the colors and patterns that will work best for your space. Outdoor pillows are an excellent opportunity to add pops of color and texture to your outdoor furnishings. Consider the existing color palette of your outdoor space and choose pillows that either complement or contrast with it. If you have a neutral-toned outdoor space, adding vibrant or contrasting pillows can liven it up. Conversely, if your outdoor space is already lively, incorporating neutral-toned pillows can help balance it out.
Our Favorites
If you're still stumped and unsure which pillows to consider, here are some of our favorite options.
The Sunbrella Castanet Beach Pillow Set adds sophistication with its subdued colors.
The Liora Manne Visions III 16" x 12" Lumbar Pillow in Peacock provides a pop of color and pattern.
The Sol 72 Outdoor Tapia Embroidered Palm Tree Outdoor Lumbar Pillow adds a tropical flair to your outdoor space.
The Arlmont & Co. Marson Outdoor Throw Pillow features an eye-catching chain link pattern.
In Conclusion
Choosing the perfect outdoor pillow boils down to the right combination of style and functionality. With the tips and insights in this blog post, you'll be well equipped to make the right decisions when shopping for outdoor pillows that will add sophistication and comfort to your patio or deck. Don't be afraid to mix and match colors and patterns and experiment with a variety of shapes and sizes to create your unique outdoor oasis.
Frequently asked questions
Why do I need outdoor pillows?

Outdoor pillows add comfort to your outdoor living spaces such as your patio or garden furniture.

What should I consider when choosing outdoor pillows?

Consider the material, style, size, and durability of the outdoor pillows when selecting the perfect ones for your outdoor spaces.

Can indoor pillows be used outdoors?

Indoor pillows are not recommended for outdoor use because they are not made to withstand weather conditions.

What materials are best for outdoor pillows?

Materials such as polyester, acrylic, and solution-dyed acrylic are ideal for outdoor pillows because they are water-resistant and can resist fading and mildew.

How do I clean outdoor pillows?

Outdoor pillows can be cleaned with mild soap and water. Some pillows may be machine washable.

What styles of outdoor pillows are available?

There are many styles of outdoor pillows available, including striped, solid, floral, and tropical prints.

How do I choose the right size of outdoor pillows?

Select outdoor pillows that complement the size of your outdoor furniture. Larger furniture needs larger pillows while smaller furniture needs smaller pillows.

Can outdoor pillows be left outside all year round?

It is recommended to store outdoor pillows in a dry place during the winter months to prevent damage.

Are outdoor pillows expensive?

The cost of outdoor pillows varies depending on the brand, material, and style. However, there are affordable options available.

Where can I buy outdoor pillows?

Outdoor pillows can be purchased online or at home and garden stores such as Pottery Barn, Home Depot, and Amazon.
Are you looking for more ideas?
Have a look at these other guides about improving your garden and patio to create your dream outdoor space!
Are you looking for more ideas?