Maximizing Your Patio Space: Practical Furniture Layout Tips
Get practical advice on arranging furniture on your patio to create a functional and welcoming space.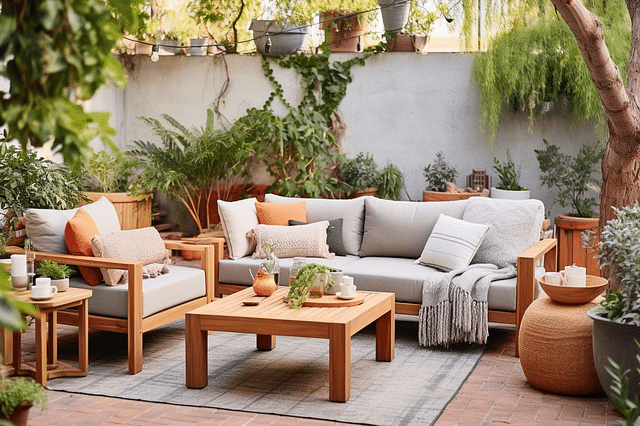 Are you looking to turn your patio into a welcoming and functional space? Whether you want to use it as an outdoor living area, for dining, or for entertainment, arranging furniture on your patio is key to making it work for you.
In this blog post, we're going to provide you with practical advice on arranging furniture on your patio, to create a space that looks great and works well for your needs.
Understanding Patio Layouts
Before we dive into how to arrange outdoor furniture, it's important to understand the different types of patio layouts. There are two primary types: symmetrical and asymmetrical.
Symmetrical layouts are balanced and formal. They involve arranging outdoor furniture in a way that creates a sense of order and symmetry. Asymmetrical layouts are less formal and they allow for more creative freedom. They involve arranging furniture in a way that creates visual interest and variation.
Tips for Arranging Outdoor Furniture
Now that you have an understanding of the different patio layouts, let's dive into some tips for arranging outdoor furniture.
Consider the Function of Your Space
The first thing you need to do is consider the function of your space. Ask yourself, what activities do you plan on doing in this area? Do you plan on using it for drinking and entertaining? Or maybe you plan on using it to dine alfresco? Determining the function of your space will help you decide which furniture pieces you need and how you should arrange them.
Design with Traffic in Mind
Your patio furniture should never block the natural flow of movement from one area to another. Be sure to leave enough space between pieces of furniture (at least 3 feet), so people can move freely around the area.
Create Zones
Dividing your patio into distinct zones will create a more functional space. A zone could be an outdoor living area, designated dining area, and a space for entertaining. Create zones by arranging furniture in a way that separates one area from another.
Incorporate a Focal Point
A focal point can be a fire pit, water feature or any other element that draws attention. It can also be a large piece of outdoor furniture, like a sectional or a dining table. Incorporating a focal point will give your space a purpose and make it more inviting.
Mix and Match Furniture Pieces
Don't be afraid to mix and match furniture pieces to create a unique and interesting look. Pairing different materials, such as wicker and metal, can add texture to your space. You can also mix colors and prints to create a vibrant and exciting space.
Implications of a Well-Designed Patio
A well-designed patio will provide you with a comfortable and convenient area to relax and entertain guests. It will also increase the value of your property. A well-furnished patio can increase your home's living space and create an outdoor oasis that will make your home more attractive to potential buyers.
Conclusion
Arranging outdoor furniture can be challenging, but when done right, it can transform your patio into a stylish and functional area. Remember to consider the function of your space, create zones, and design with traffic in mind. By following these tips, you'll be on your way to creating a welcoming outdoor space that you'll love spending time in.
Frequently asked questions
What are some key considerations when arranging patio furniture?

Consider the size of your patio, the type of furniture you want to use, and the purpose of the space.

Should I prioritize function or aesthetics when arranging my patio furniture?

Ideally, your patio layout should strike a balance between comfort and visual appeal.

How can I make my small patio feel more spacious with furniture layout?

Opt for compact furniture, use multipurpose items, and avoid overcrowding the space.

What are some creative ways to use furniture to add privacy to my patio?

Consider using outdoor curtains, decorative screens, or trellises with climbing plants.

What should I consider when selecting outdoor furniture for a patio?

Quality, durability, weather resistance, and style are all important factors to consider.

How can I create a cozy seating area on my patio?

Use furniture arrangements that encourage conversation, add plenty of cushions and pillows, and consider adding an outdoor rug.

Are there any basic rules of thumb when arranging furniture on a patio?

Leave enough space for foot traffic, avoid blocking the view, and use furniture to define the different areas of the patio.

How can I make my patio feel more inviting and welcoming?

Use warm lighting, incorporate bright colors or patterns, and add natural elements like plants and flowers.

What are some tips for maintaining and organizing outdoor furniture on a patio?

Store cushions and small items in weather-resistant containers, cover furniture when not in use, and routinely clean and maintain furniture.

Where can I find outdoor furniture for my patio?

Local home and garden stores, online retailers, and specialty outdoor furniture stores are great options.
Are you looking for more ideas?
Have a look at these other guides about improving your garden and patio to create your dream outdoor space!
Are you looking for more ideas?