Creating a Poolside Paradise: Choosing and Arranging Outdoor Furniture
Discover tips and ideas for selecting and arranging outdoor furniture to create a relaxing, stylish poolside area.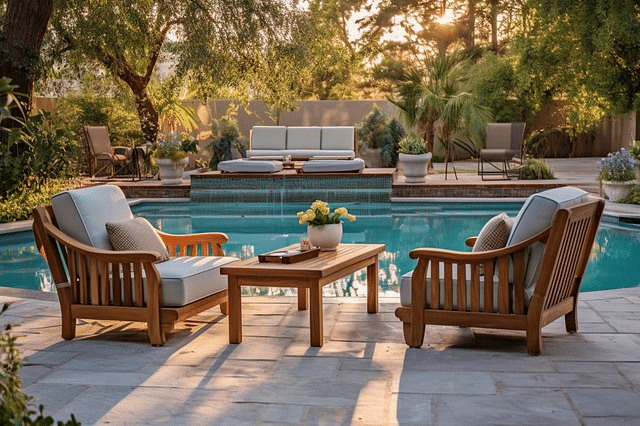 Are you lucky enough to have a pool in your backyard? If so, you probably already know that the pool area can be the perfect spot for relaxing, entertaining, and enjoying the outdoors. But have you considered how much of an impact the right outdoor furniture can make?
In this blog post, we'll discuss tips and ideas for selecting and arranging outdoor furniture to create a poolside paradise that is both stylish and comfortable. Whether you're starting from scratch or looking to update an existing setup, we've got you covered.
What to Consider When Choosing Outdoor Furniture
Before diving into the fun part of selecting outdoor furniture, it's important to consider practical factors such as durability, comfort, and style. When choosing furniture for a poolside area, it's essential to select pieces that can withstand the elements without sacrificing comfort or style. Here are some of the key things to consider:
Material: Look for furniture made from weather-resistant materials such as metal, teak, or resin wicker. These materials can withstand sun, rain, and even saltwater without rusting, fading, or warping.

Comfort: Choose furniture that is comfortable to sit or recline on for long periods of time. Look for chairs with cushions and consider adding a matching umbrella or pergola for shade.

Style: Consider the existing style of your home and landscape when selecting outdoor furniture. Choose pieces that complement your aesthetic while also providing function and comfort.
Arranging Outdoor Furniture for a Relaxing Atmosphere
Once you've chosen your outdoor furniture, it's time to think about how to arrange it in a way that encourages relaxation and socialization. Here are some tips:
Create distinct spaces: Consider breaking up your poolside area into clearly defined spaces for lounging, dining, and socializing. This can make the area feel more organized and inviting.

Arrange furniture in clusters: Arrange chairs and loungers in small groups facing each other or the pool to encourage conversation and relaxation.

Add a focal point: Consider adding a coffee table, fire pit, or outdoor rug to create a focal point for your outdoor space.

Don't forget the accessories: Add throw pillows, outdoor rugs, and other accents to add color, texture, and comfort to your outdoor furniture setup.
The Advantages of Luxury Outdoor Furniture
Investing in high-quality luxury outdoor furniture has a number of advantages. Not only will it look and feel better than cheaper options, but it will also last longer and require less maintenance in the long run.
Luxury outdoor furniture is often made from higher quality materials, such as teak or aluminum, which are better able to withstand the elements. This means you won't need to replace your furniture as often, saving you money in the long run. Additionally, luxury outdoor furniture often comes with warranties or guarantees, giving you added peace of mind.
Wrapping Up
Creating a poolside paradise with the right outdoor furniture can transform your backyard into a luxurious oasis for relaxation, socialization, and entertaining. By choosing durable, comfortable, and stylish furniture and arranging it in a way that encourages relaxation, you can create a space that feels like a true extension of your home.
So go ahead, invest in luxury outdoor furniture, and get ready to enjoy the ultimate summer staycation in your backyard.
Frequently asked questions
What are some popular materials used for outdoor furniture?

Materials commonly used for outdoor furniture include wood, metal, plastic, and wicker.

How do I choose the right size patio furniture for my poolside area?

Measure your space and select furniture that comfortably fits the area, leaving enough room for people to move freely.

Can I mix and match different styles of outdoor furniture or should I stick to one style?

You can mix and match different styles of outdoor furniture to create a unique and eclectic look, just be sure to choose pieces that complement each other.

How do I protect my outdoor furniture from the elements?

Invest in covers to protect your outdoor furniture when not in use, and select materials that are weather-resistant and durable.

What are some tips for arranging outdoor furniture around a pool?

Arrange furniture in conversation areas, keeping the seating close enough for easy conversation but far enough apart to avoid crowding. Be sure to provide shaded areas as well.

Should I choose neutral or bold colors for my outdoor furniture?

This is a personal preference, but consider selecting neutral colors for large furniture pieces and adding pops of color with accent pillows and accessories.

How do I maintain the longevity of my outdoor furniture?

Regularly clean and maintain your outdoor furniture, storing it away during harsh weather conditions and treating it with protectants as needed.

What are some budget-friendly options for outdoor furniture?

Look for deals online or in-store during the off-season, and consider upcycling or repurposing old furniture pieces.

What are some ideas for creating a cozy poolside space?

Add outdoor rugs, canopy umbrellas, and string lights to create an inviting and comfortable poolside retreat.

How do I ensure safety when arranging furniture around a pool?

Place furniture at a safe distance from the pool, avoid placing furniture that can topple easily, and make sure all furniture is secure and stable.
Are you looking for more ideas?
Have a look at these other guides about improving your garden and patio to create your dream outdoor space!
Are you looking for more ideas?